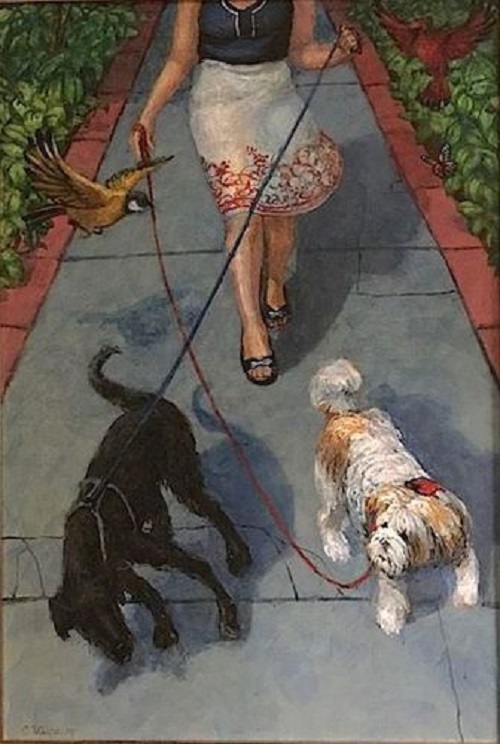 Artist Charles David Viera Announces New Exhibition, "New Works 2015-2019" at New Hope Arts Center A-Space
Repeats: None
New Hope Arts Center A-Space
2 Stockton Ave, New Hope, PA 18938

New Hope, Pennsylvania 18938
(215) 862-9606
Region: Philadelphia & The Countryside
Hours of operation: 4-7PM

Photo: "On a Short Leash," Acrylic on Board, by Charles David Viera.
New Jersey-based artist Charles David Viera, presents "Charles David Viera: New Works 2015-2019." The exhibition opens at New Hope Arts Center A-Space with a reception on Saturday, November 2, 4-7 PM and runs through November 30, 2019.
"I feel fortunate to have made a career as an artist and art instructor. The paintings in New Works 2015-2019 are a collection of images that represent the latest chapter of my life. They are reflections on moments that I have considered or witnessed over the last four years," says Viera. "I am thrilled to be working with the New Hope Arts Center and for the opportunity to contribute to the New Hope/Lambertville art scene which continues to be a vibrant and important source of creativity in this area."
Viera exhibited at the Brooklyn Museum, Nassau County Museum, Adam Gimbel Gallery, and the First St. Gallery in New York, as well as the Artists' Gallery and the Riverrun Gallery in Lambertville, New Jersey. Viera taught painting and drawing at a variety of institutions, including the Brooklyn Museum Art School, Parsons School of Design, and Long Island University in NYC as well as the Montclair and Hunterdon Art Museums in New Jersey. He currently teaches beginner to advanced painting for adult students at the Arts Council of Princeton and for the Readington Township.
On view hours for 'New Works' is as follows:
Saturday, November 2 | Opening Reception | 4-7 PM
November 3 - 30, 2019:
Wednesday - Friday: 12-6 PM
Saturday - Sunday: 1-6 PM
New Hope Arts Center A-Space
2 Stockton Ave, New Hope, PA | newhopearts.org
To learn more about Charles David Viera, please visit charlesdavidviera.com.
About New Hope Arts Center:
New Hope Arts, Inc. is an incorporated non-profit arts center that serves the important purpose of showcasing the work of contemporary artists in the Lambertville/New Hope area and Delaware Valley region. It presents four major group exhibitions annually across a broad array of media – sculpture, wood, painting, fine artisan crafts, and new media installations. New Hope Arts was established as a small community-based arts organization by Robin Larsen in 2002. She envisioned building an important regional arts center that would be integral to reclaiming New Hope/Lambertville as a top national arts destination.