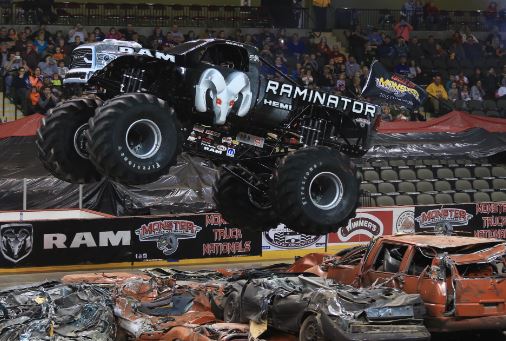 Clarion Ford CDJR Lets Monster Truck on the loose in Clarion!
Repeats: Every Day
Clarion Ford Chrysler Dodge Jeep Ram
1305 E. Main Street

Clarion, Pennsylvania 16214
Region: Pennsylvania Wilds

Clarion be on the lookout, there's a monster truck headed your way! On Thursday, October 3rd - Saturday, October 5, 2019, witness what over 5 tons of heavy metal looks like firsthand when the legendary monster truck, Raminator makes a pitstop at Clarion Ford CDJR, located at 1305 E. Main Street. Watch as cars crumble beneath the Raminator's wheels during the car crushes happening on Thursday, October 3rd! Don't miss an electrifying ride on back of the eight-passenger monster truck with a member of the Hall Brothers Racing team! Fans are invited to take photos and meet the members of the Hall Brothers Racing Team that operate the "monster"! While there register and enter for a chance to win the 2019 FCA US LLC Sweepstakes where one (1) Grand Prize Winner will receive a vehicle credit in the amount of $70,000 valid toward the winner's choice of an FCA US LLC vehicle from the Chrysler, Dodge, Jeep, Ram Truck or Fiat brands. Times: • 10/3 – Raminator on Display 9am-8pm w/ Car crushes at 5:15pm and 7:00pm • 10/4 – 10:00am-6:00pm Ride Truck • 10/5 – Ride Truck at noon at the Autumn Leaf Festival After hitting a top speed of 99.10 mph in December 2014, the Raminator has reigned as the sole holder of the GUINNESS WORLD RECORDS® record for the Fastest Speed for a Monster Truck. For 15 consecutive years, two of the most widely recognized vehicles in monster truck racing industry, Raminator and Rammunition have been proudly sponsored by the Ram Truck brand. In 2018, Raminator and Driver Mark Hall clinched their 13th 4-Wheel Jamboree Series Championship win. The Hall Brothers Racing Team currently cultivates audiences as they tour nationwide, while competing in races with the Raminator and Rammunition trucks. For more information on the Monster Truck Racing Association (MTRA) Certified Ram Monster Truck lineup, please visit www.Raminator.com.