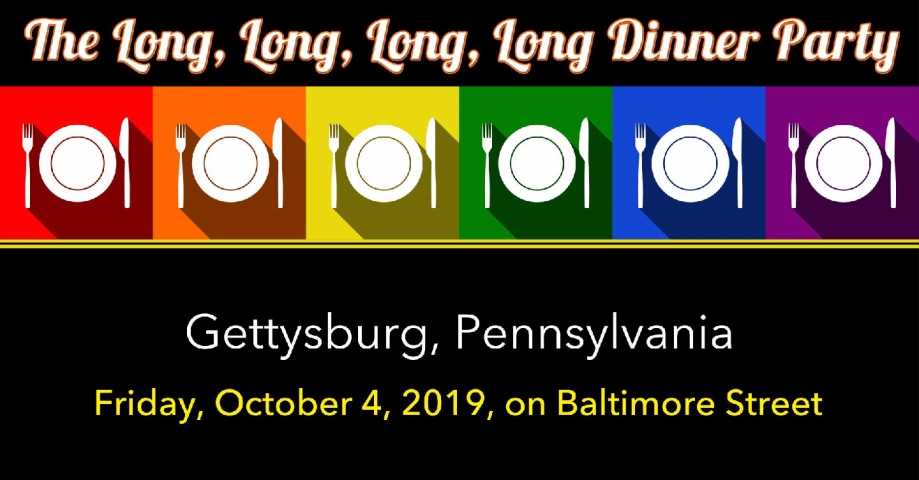 Long, Long, Long, Long Dinner Party
Downtown Gettysburg
1 Lincoln Square
Gettysburg PA, 17325
717-337-3491
Region: Dutch Country Roads
Hours of operation: 5 - 8 p.m.

In a first-of-its-kind event for Gettysburg, Main Street Gettysburg will host an open-air fundraiser and potluck dinner party in the heart of downtown Friday, October 4 from 5 to 8 p.m. The event will support revitalization efforts in Gettysburg -- most notably the current project to revitalize the Baltimore Street Historic Pathway. The Long, Long, Long, Long Dinner Party will feature dinner tables and chairs stretching from two quads of Lincoln Square down the center of Baltimore Street to South Street – a distance of four blocks. Guests can either bring their own food and soft drinks or order from area restaurants and/or food trucks. There also will be a spirits tent in a designated area on Lincoln Square. The public is invited to reserve a table to enjoy an outdoor dinner with their families, friends, and neighbors. Tickets are $15 per person (which includes the Eventbrite processing fee) and they reserve a seat at the dinner party. Each table has 8 seats. If tickets remain, they can be purchased at the event for $20 per person.